Get To Know Peiser & Mankin Surveying, LLC
TBPLS Firm Number 10099900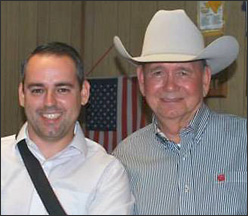 Peiser & Mankin Surveying, LLC (formerly Peiser Surveying Co.) has been a staple of surveying in Texas since 1980. With access to and familiarity with all sections of the state, Peiser & Mankin Surveying is able to respond quickly to our clients' needs. We take pride in providing our clients with quality products and superior service on time, and to their specified format. We are committed to being the leader in Boundary Surveying by meeting our clients' needs in a timely manner consistent with the rules mandated by the Texas Board of Professional Land Surveyors. Peiser & Mankin Surveying services primarily the DFW Metropolitan Area, Dallas, Tarrant, Collin, Denton, Ellis, Johnson, Kaufman, Grayson and Rockwall Counties, but we also service all sections of the State of Texas.
The staff at Peiser & Mankin Surveying consists of two registered professional land surveyors, 2 Survey CAD technician, and seven field personnel, one of which is a former employee of the National Forest Service, with over 20 years of surveying experience, and another has extensive experience with our GPS equipment and has 15 years of experience. We strive to achieve the best service to our clients as possible by using the latest field equipment for the data collection, such as total stations, handheld computers and GPS, and Civil 3D Land Development Desktop CAD software for the post-processing in the office.
---
HUGH E. PEISER, RPLS – Owner
Registered Surveyor, Texas # 3688
Mr. Peiser has over 40 years of experience in surveying work and has been an RPLS in Texas since 1980. Hugh will be responsible for daily operations regarding management of the survey department, production of topographic mapping and quality control /quality assurance of the surveying work. Mr. Peiser began his professional surveying career in 1980, surveying layouts for construction of large buildings and performing Field Surveys on hundreds of boundaries.
---
TIMOTHY R. MANKIN, RPLS – Owner & Managing Member
Registered Surveyor, Texas # 6122
All surveying and mapping assignments are lead and managed by Timothy Mankin, RPLS.
Timothy has been working in the surveying industry since 2002. Mr. Mankin's responsibilities include, but are not limited to coordination of all field crews and drafters, as well as calculation of boundary and construction surveys. His duties also include performing and coordinating the work activities for multiple large and/or complex land surveying projects simultaneously as well as directing the work activities of assigned Survey Technicians. Mr. Mankin coordinates various project tasks with the Engineering Departments, administrative staff, clients and review authorities.